Join over 2000+ stores connecting with their consumers globally:


















Make data usable across your organization
Accessibility
Consolidate data across multi-market business units, cloud apps, POS, e-comm platforms, and make it safely accessible to your internal teams after we make it readable.
---
Scalability
Prevent dirty data from compounding as you grow, migrate, and utilize tools in high risk industries.
---
Protection
Keep customer record logs safe in a SOC 2 + HIPAA audited platform designed from the ground up to automate privacy and messaging regulations. Securely share analytics without exposing customer records, PII, or sensitive values with your brand/ manufacturer partners.
---
More info
Get a demo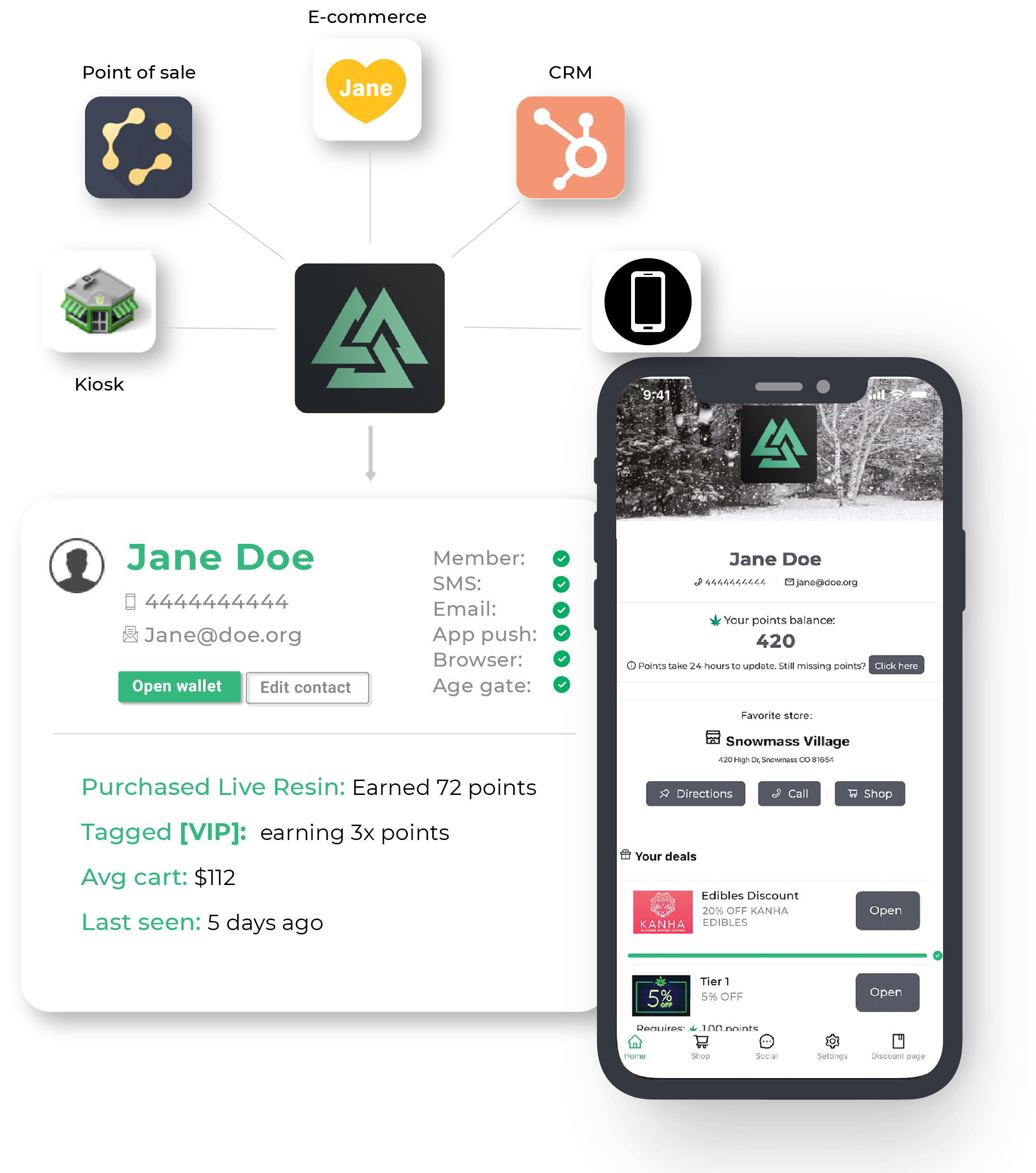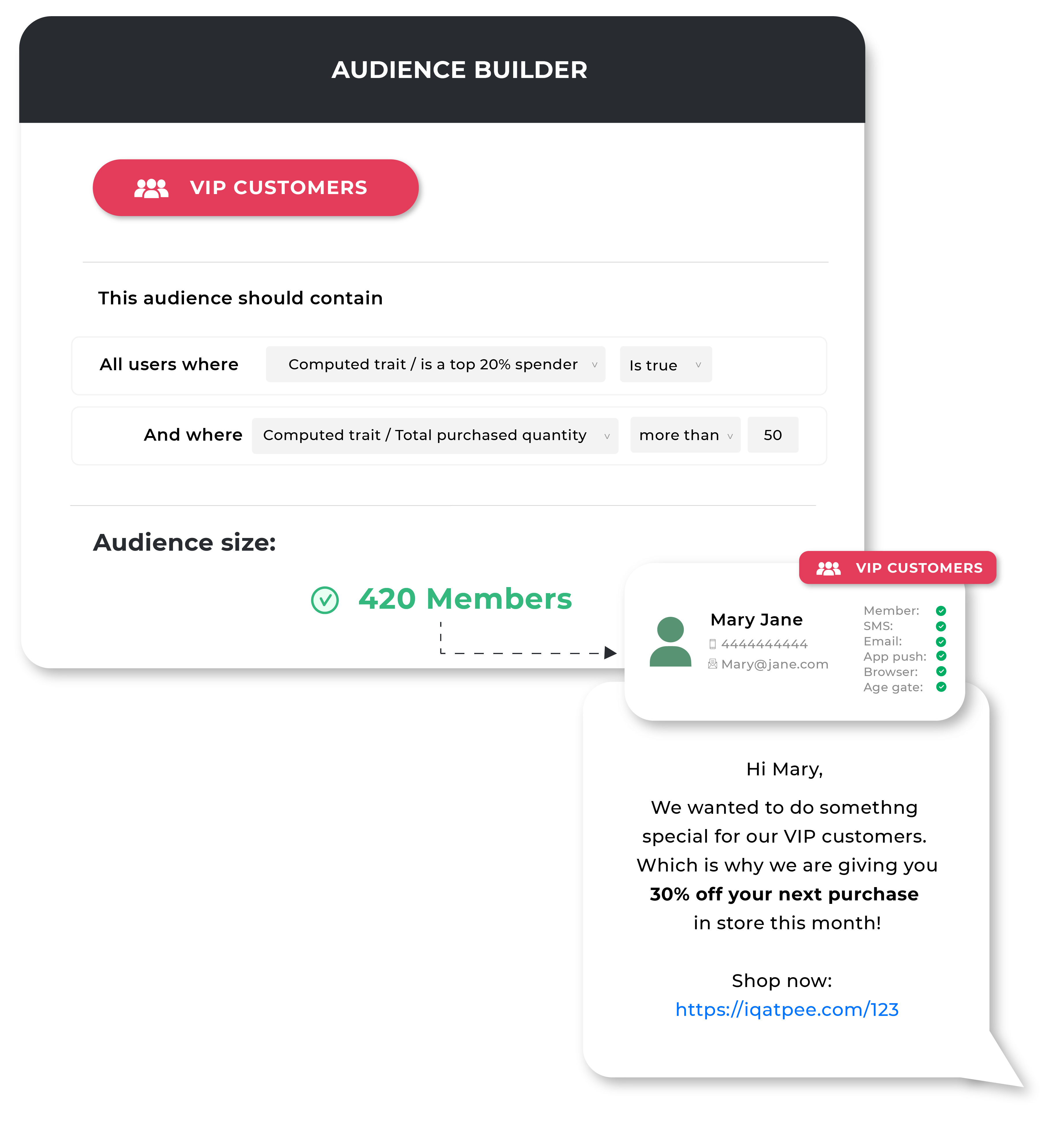 WOW consumers with market defining messaging flows
Audience segmentation
Pre-configure go-to-market messaging campaign drips for your retail partners to easily launch via "AIQ Recipes".
---
Send text, email, native app push, browser push, and in-app ads
Dominate the market with omni-channel strategies like
winback
/
abandoned cart recapture
leveraging all messaging channels!
---
Overcome censorship
Start trusting your messaging campaigns will actually be delivered with deliverability technology designed for high-risk sectors.
---
More info
Get a demo
Loyalty program infrastructure that gets customers to return over and over again with genius precision
Onboard customers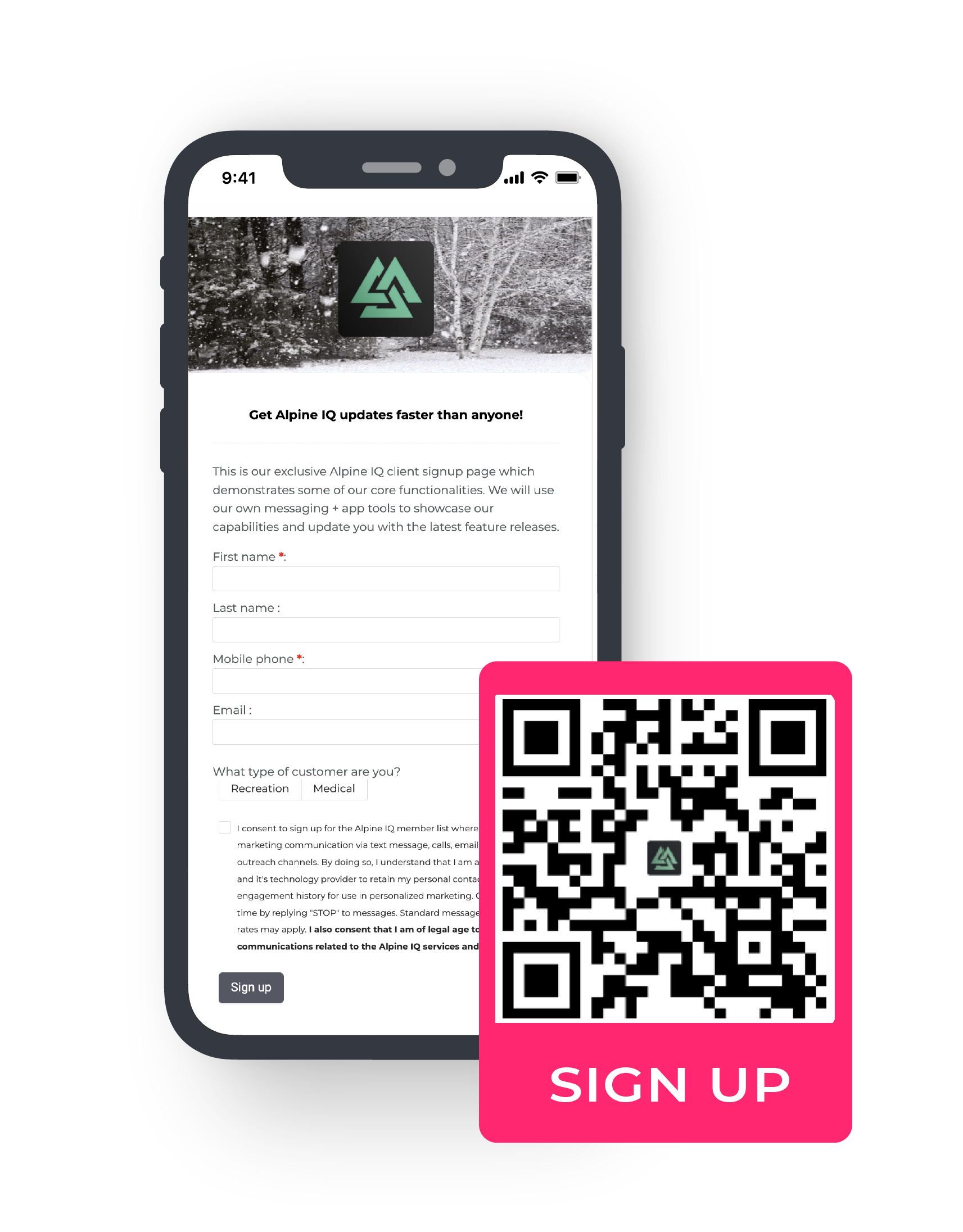 Onboard new loyalty members with Alpine provided custom/ compliant signup forms, messaging channels, app store logins, API submissions, kiosks, or through 3rd party integrations.
Enable connected multi-channel experiences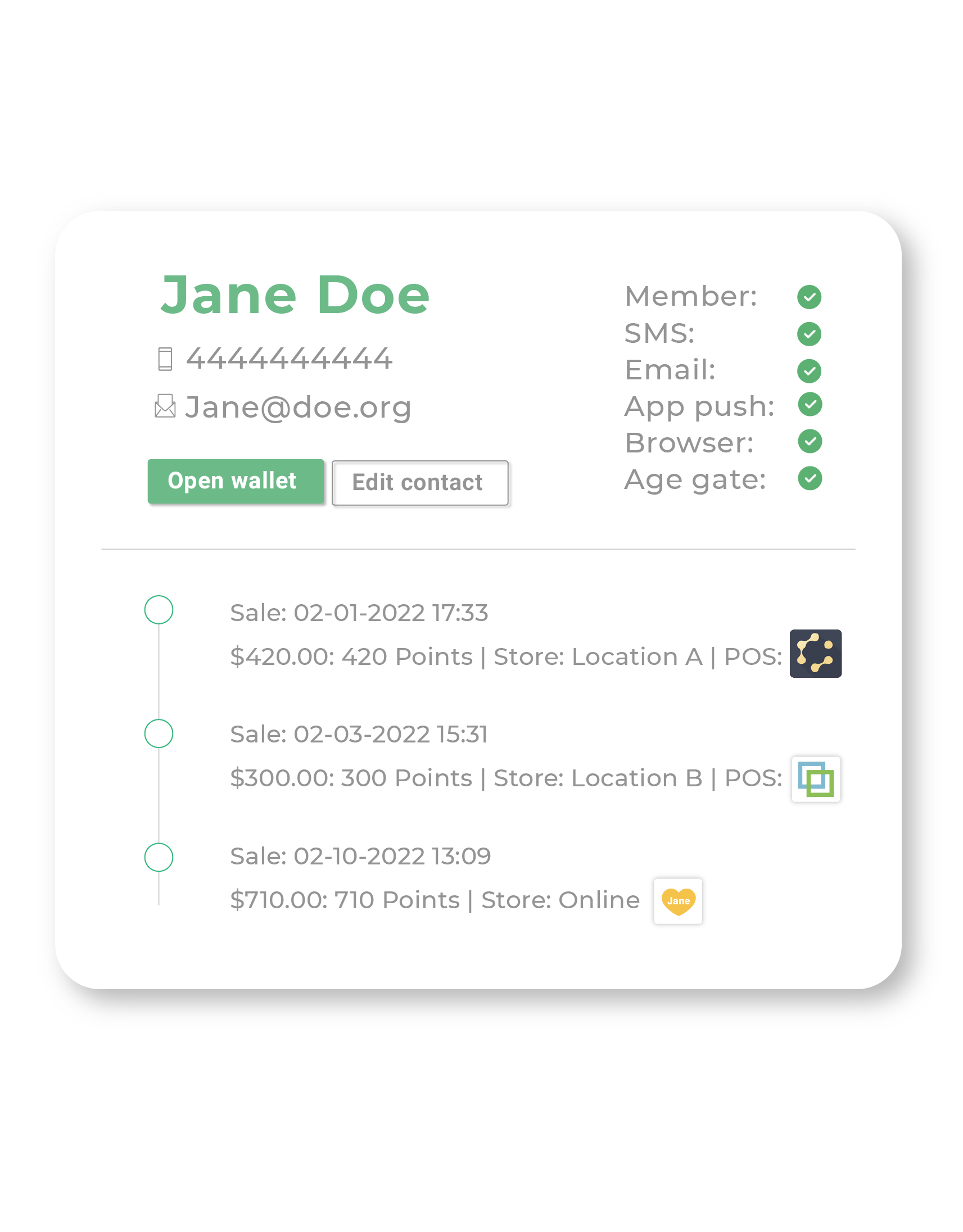 Provide consumers with shared experiences across multiple POS systems, ecomm carts, web apps, native apps, and even with complex MSO brand split outs post merger.
Compliance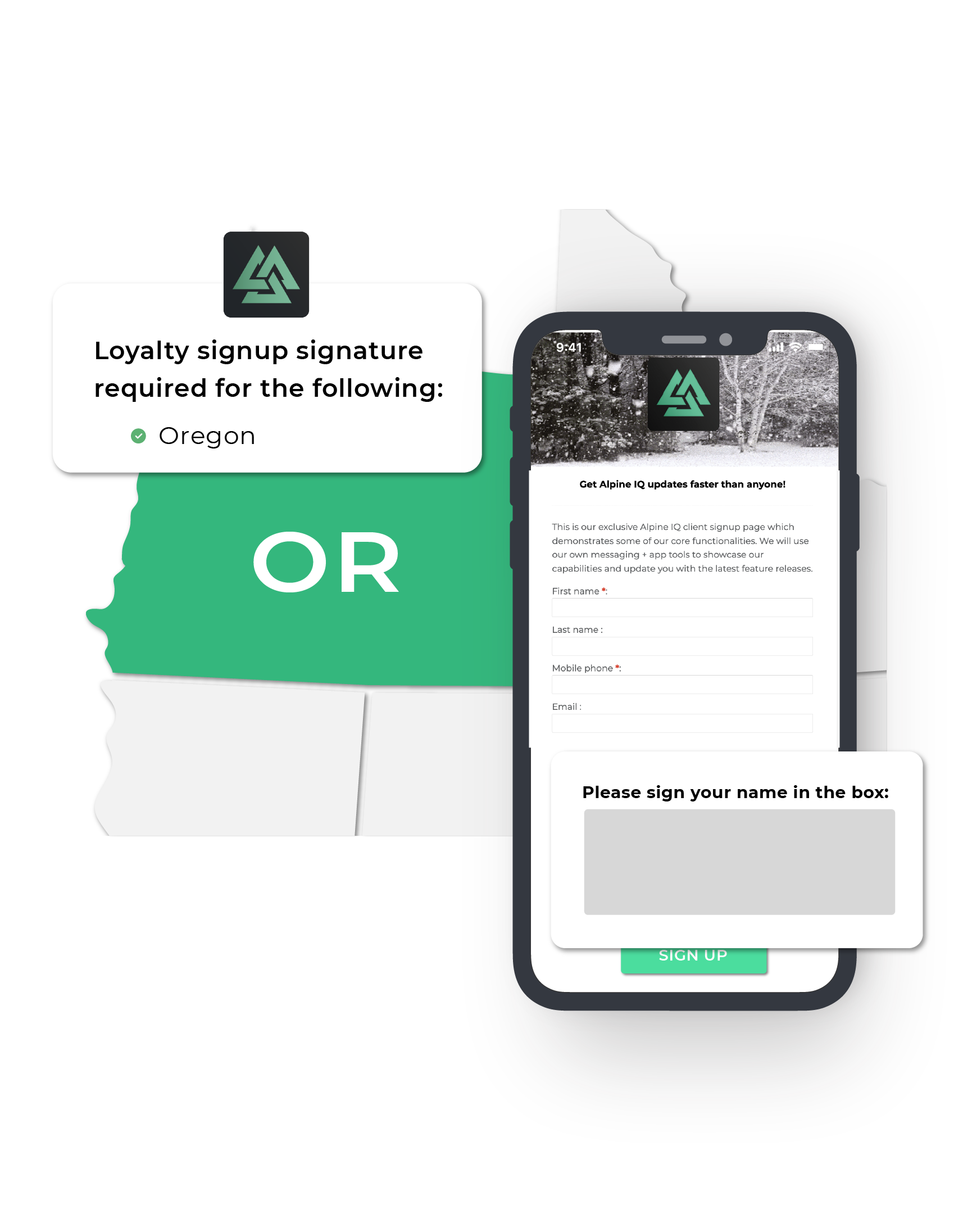 Reward loyal consumers in any state or province based on local regulations. Produce key stats for breakage and public entity points reporting. Keep your points ledger safe from attack vectors/ bad actors.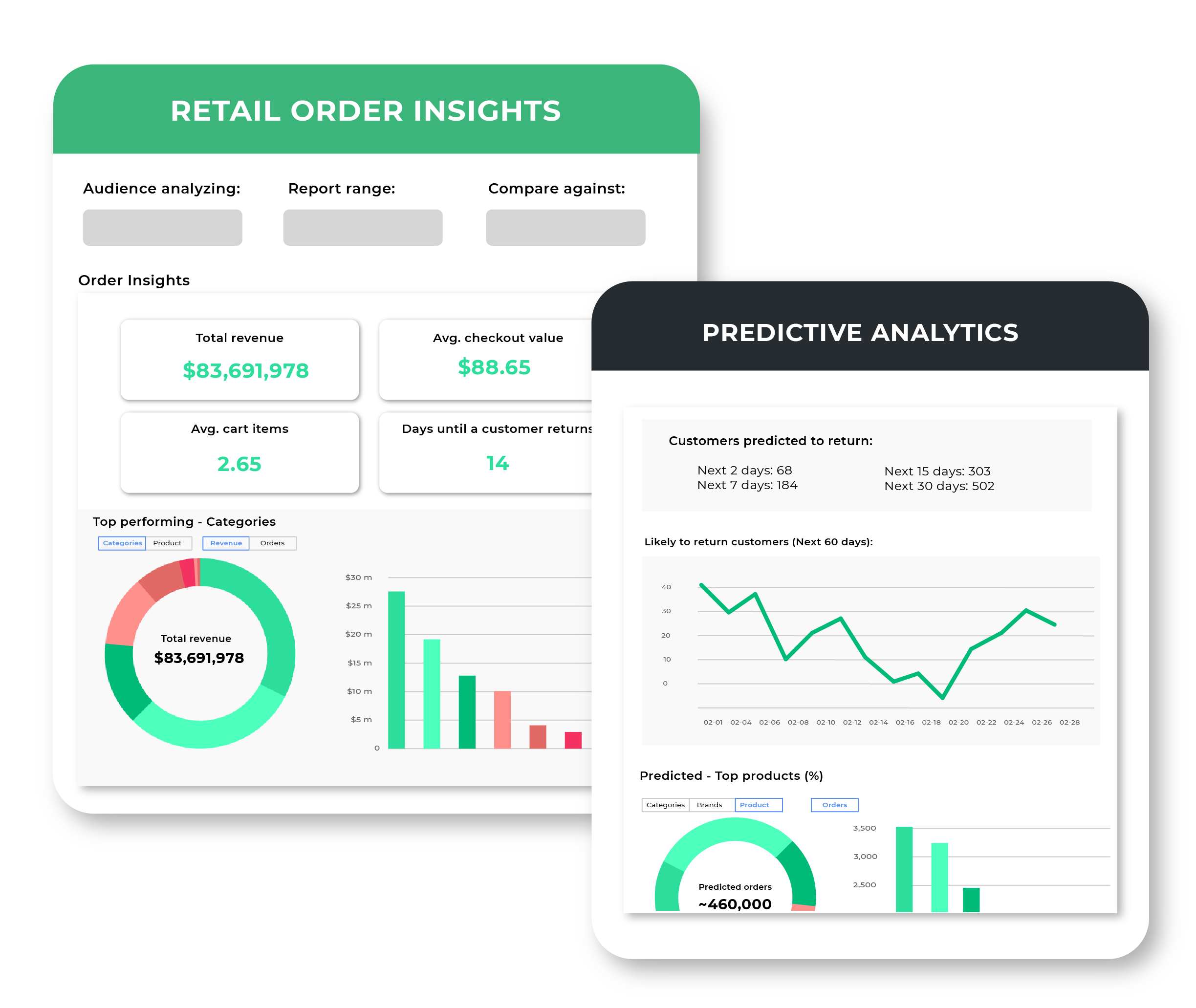 Discover unreal insights using Alpine IQ as a nexus
Internal retail insights
Discover key cannabis success indicators hidden in customer segments, then spark revenue generating efforts across marketing, inventory planning, and executive growth teams.
---
Brand partner reporting
Alleviate brand partner analytics sharing burdens without exposing customer records, PII, or sensitive values.
---
Machine Learning predictions
Through our machine learning technology, you can predict purchasing habits based on any custom audience of your choice. Leverage this data to power in store screens, wholesale purchase decisions, and more.
---
See more
In under 3 years Alpine IQ has become the industry leading technology essential for retail operators. We've gone from a single store in Canada to over 2,000 stores globally servicing over 55 million consumers that leverage our experiences. We continue to develop our products exclusively around customer feedback/ innovation requests and I can't wait to see what we can come up with together in the future.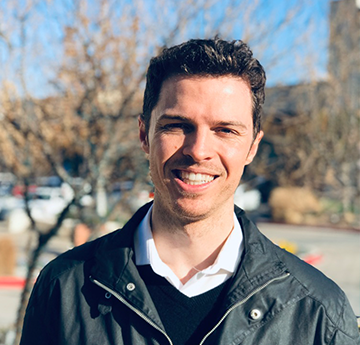 Nicholas Paschal
CEO